Why not.
Man, I'm sad I missed the Wimbledon final with Nadal vs. Federer.
WIMBLEDON, England—Rafael Nadal, grass stains on his white shirt and a Spanish flag tucked under his arm, scampered through the Centre Court stands to celebrate his first Wimbledon title with hugs and handshakes.

Roger Federer sat in his changeover chair, protected from the night's chill by his custom-made cream cardigan with the gold "RF" on the chest. Alone with his thoughts, alone with the knowledge that he had come so close to becoming the first man since the 1880s to win a sixth consecutive championship at the All England Club.

Two points from victory, the No. 1-ranked Federer couldn't pull it out, instead succumbing to No. 2 Nadal 6-4, 6-4, 6-7 (5), 6-7 (8), 9-7 Sunday night in a 4-hour, 48-minute test of wills that was the longest men's final in Wimbledon history—and quite possibly the greatest.
EPIC EPIC EPIC.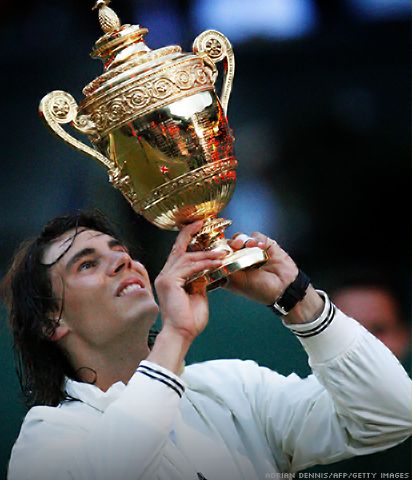 That and I'm getting a new stick, possibly Prince's O-Tours.